Level Up Your Leadership Skills
BCSP and Dale Carnegie have partnered to offer leadership courses tailored just for safety professionals. These courses can help you become more influential and lead change in your organization.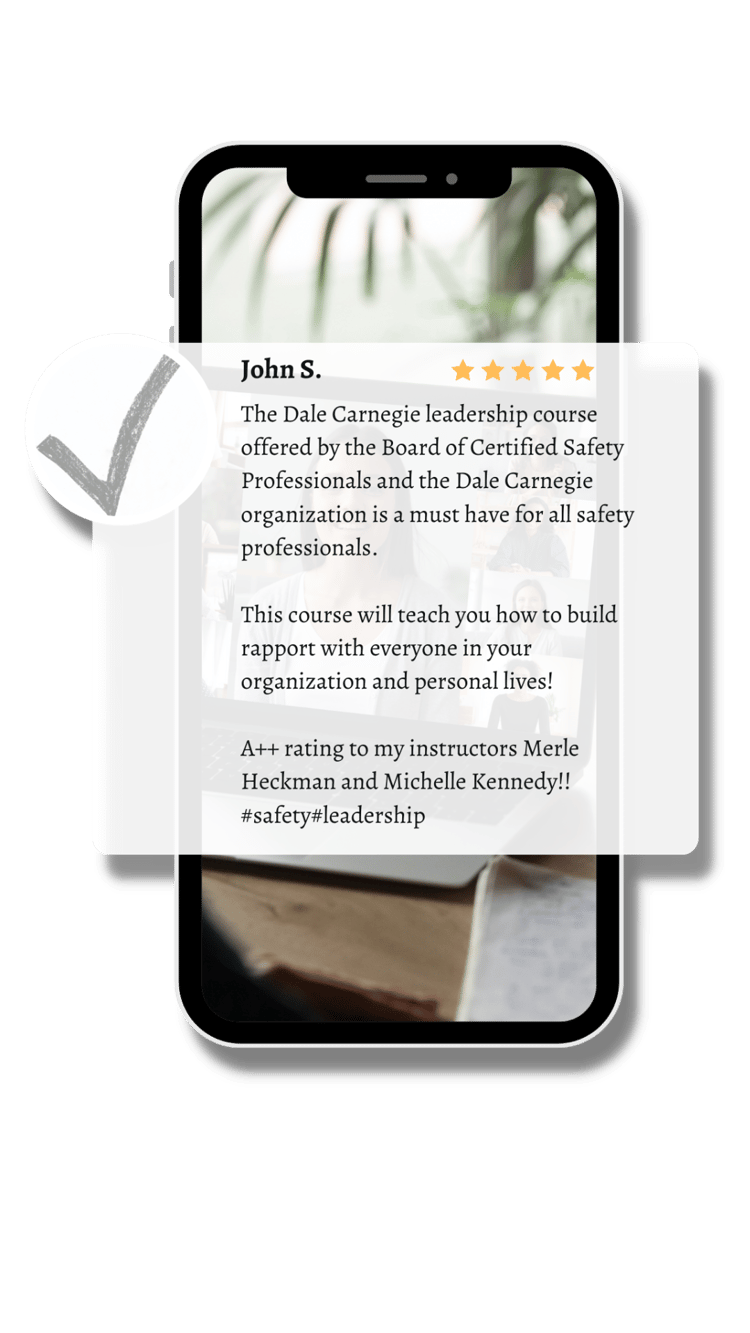 Our Benefits
Why BCSP + DC?
✔️ Discover how to form closer, more rewarding relationships built on trust and respect
✔️ Increase your confidence and competence in interacting with others
✔️ Gain the influence you need to reach new heights in your personal and professional life
✔️ Become a persuasive communicator and problem-solver
✔️ Earn recertification points
And more!
The BCSP + Dale Carnegie Leadership Course
Your Path to Personal and Professional Success.
The Dale Carnegie program creates leaders, and the BCSP + DC course will enhance your ability to engage your team as a trusted safety partner. The BCSP + DC course is a live, online interactive program delivered by instructors with safety, health, and environmental experience.
Whether you're looking to level up for a promotion, improve your communication and problem solving skills, or just want to be seen as more of a partner rather than an enforcer, this course has so much to offer.
Master personal and professional skills that will be recognized, encourage the positive contributions of your colleagues, and increase your impact as a safety professional.
Additional Courses
Mastery Tracks Just for Safety Pros
3 tracks built to improve specific skills for today's safety professionals.
Successful Public Speaking (3 hours)
Successful public speaking uses the foolproof methods of Dale Carnegie to turn a nervous novice into a confident presenter. This session will help safety professionals master the art of public speaking by learning to eliminate discomfort and boost confidence - the key things that stand in the way of success.
The Art of Storytelling (Two 2-hour sessions)
Successful leaders and public speakers throughout history have understood and harnessed the power of good storytelling. No matter your topic or your audience, telling a story engages your listeners and elevates your public speaking to an art. We believe that public speaking and storytelling are skills to be learned, not inborn abilities. Impactful storytelling requires an understanding of your audience, your topic, and your goal. In this workshop, you will learn the very same skills that Dale Carnegie himself used to create generations of successful business people, compelling community leaders, and even politicians.
High Impact Presentations (2 Days / In-person or Virtual)
Whether you are persuading colleagues, presenting a safety talk, or energizing a team, the​ power of your presentation skills makes the difference between success and failure.
You will present at least seven times over the course of two days. Your presentations are videotaped and evaluated. And you get expert one-on-one coaching at the end of each presentation. After taking this presentation skills course, you will be able to notice gains in effectively communicating your ideas, enhance personal and corporate image, and ultimately increase your ability to influence others for safety.
Building Trust Credibility and Respect (2 hours)
With our current business reality and global economy dependent on relationships and partnerships, the ability to establish, cultivate, and restore trust with our colleagues, employees, vendors, and clients is an essential leadership capability. This module looks at the relationship between trust, credibility, and respect and provides principles and tools for restoring broken trust and building a trust-driven safety environment.
Lead Change Effectively (2

hours)
Organizations today operate in an environment of rapid, continuous change. We will examine the challenges of change leadership and the mistakes that often result. We will incorporate principles for leading organizational change, leading individuals during times of change, and managing our own reactions to change.
Influence without Authority (Five 3-hour sessions, plus kickoff and sustainment)
Safety professionals need to be able to guide employees to making safe choices. Often this must be done with the power of influence. Likewise, safety professionals need to be able to have a seat at the table with upper management. They need to be able to influence leaders to make choices and decisions while being in a position of not having authority.
How to Communicate with Diplomacy and Tact (2 hours)
This module gives participants the opportunity to practice dealing with trying situations in a confident and diplomatic way. They will learn to speak honestly and tactfully, give and receive constructive feedback, and use mediation skills to help others find common ground when holding opposing viewpoints.
Develop Your Leadership Potential

Awareness (Ten 2-hour sessions, Sustainment)
In this program participants identify and overcome 20 of the most common interpersonal challenges often found in leadership behavior and learn the 21st habit – a paradoxical trait that's a driver of success. They will apply a variety of methods to gain feedback and practice feedforward – a simple yet powerful process that turns feedback into productive action.
Leadership Training for Results (Five 3-hour sessions, Sustainment)
Whether leadership is given with a title or earned through the respect of others, it is a unique and difficult skill that requires the ability and willingness to face the ultimate unpredictable variable - people. This variability takes the form not just of a diversity of people (generational, cultural, educational, mindset, etc.), but also the differences in their emotions, situations, abilities, and preferences. Build your unique strengths as a leader to inspire, motivate, and develop others through a person-centered approach.
"No matter what degree, job title or years of experience you have, if you're a safety professional and want to tackle complex challenges, expand your ingenuity, and excel in building team harmony - this course is for you!" Anthony Dohmann CSP, CHST
"I found myself subconsciously applying the lessons I learned to my daily work and life in the areas of goal setting, building relationships, gaining cooperations, being a leader without authority, and disagreeing agreeably." Sara Silverman, CSP